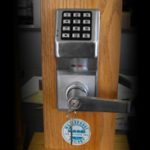 If you are a building or business owner who deals with tenant or employee access, you may find yourself tired of lost or forgotten keys, multiple broken keys, and the expense of a locksmith every time one of these events happened. The answer to your key nightmares may be access control systems in Orlando, FL.
How Does a Door Access Control System Work?
In years past, access control systems were available, but not thought to be cost-effective for small businesses or buildings with lower numbers of rental units. However, one can install a wired system that allows the building or business owner to tell each key fob which door it can open and at what time. It can also keep a record of each person who enters and when each door was opened. Such a system will give twenty-four-hour employee or tenant access and a door access security system for increased security.
With access control systems, each tenant or employee has their key fob, which allows them round the clock access to the facility. Even your cleaning company can be provided fobs so they can access the building for scheduled cleaning. If a person does lose a fob, it is simply deactivated in the computer and a new one activated and tagged to them.